"I sat in on Kelly's workshop on Story Structure a couple of years ago.  It was excellent!  Her teaching is inspired.  I hope every Lakeside writer has a chance to benefit from her classes."
Alejandro Grattan
"Kelly's workshops provide insight into what makes good writing great writing. Both seasoned and beginning writers, fiction and non-fiction writers can benefit from Kelly's approach to honing one's inner voice and transposing it to the page."
Linda Wayne Goldman
A POWERFUL 5 WORKSHOP SERIES
These are online interactive workshops for writers of fiction and non-fiction and for people who love to read. You have the option of submitting your writing to use in class as examples. Or, if you aren't writing anything now, just come and learn! You'll finish the series with sharpened writing skills, a fresh way of critiquing, and a deeper appreciation for what you read.
15 participants maximum each class, first come/first in!
I. Structuring Your Story: 5 Elements
Learn the various structures that pull in your readers by mirroring the way the brain "hears" anecdotes. After exploring generic story structures (as well as the structures that bomb), we'll apply what we've learned to restructure a couple of class participants' specific stories. You'll leave with a more confident way to arrange your story's details.
II. Mastering Conflict: 4 Classic Conflicts
Learn the classic "conflicts" and how to write an engaging story synopsis (including marketing copy, such as back jacket copy, or a synopsis for a query) that emphasizes your story's conflict. We'll use examples from class participants' stories. You'll leave empowered by a greater clarity of how to "set up" your story for your reader.
III. You Had Me At "Hello": Writing an Irresistible First Line
Learn the 3 things that all great opening lines rely on. We'll examine actual first lines and participants will have an opportunity to present first lines from their work for critiquing and tweaking. You'll leave with an enthusiasm for creating intriguing first lines, last lines and titles of your own.
IV. Writing Your Way Out of a Rut: How to Provide Backstory
Play with various exercises to deepen your understanding of your story, its Universal Meaning and your main characters. We'll explore the various ways of providing backstory that don't cause MEGO. You'll leave laughing with new tools and exercises to beat writer's block and to weave enthralling backstory that entrances your readers.
V. Discovering the One Simple Thing You Need to Create Compelling Characters and Narrators
Learn how to make your narrator or main characters come alive. Hint: It's not detail. We'll examine and rewrite passages from actual books and from class participants' work. You'll leave excited by your sharper understanding of the characters or narrator you've created.
"The class is both entertaining and informative in a valuable way, well worth the money  – a genuine boost to writers needing to move forward."
S.G. Kislevitz
"I enjoyed most the class on narrative v. story.  You were very well prepared. A lot of material jammed into the classes. Enough bang for the buck. Loved the handouts."
Sandy Olson
SCHEDULE
WRITING & CRITIQUE MASTER CLASSES:
Every Tuesday 5th May to 2nd June 2020

4:00 pm – 7:00 pm GMT
11:00 am – 2:00 pm EST
8:00 am – 11:00 am  PST
Every Thursday 7th May to 4th June 2020

8:00 am – 11:00 am London
5:00 pm – 8:00 pm Sydney
7:00 pm – 10:00 pm  Auckland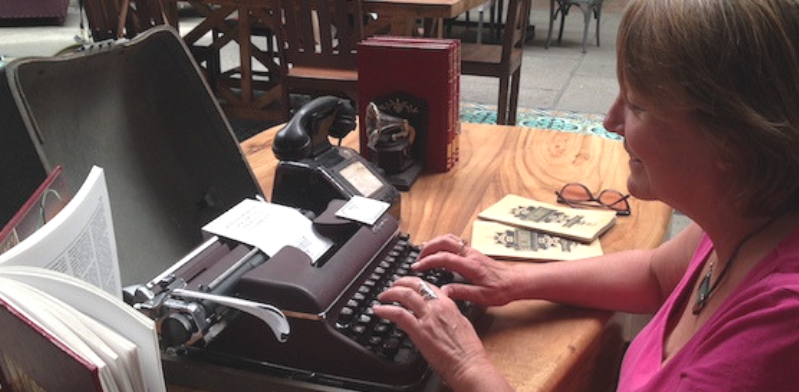 COST
US$175
for all 5 classes, all handouts and all in-class critiques.

Maximum 15 participants. Each participant has an opportunity to ask questions.
LOCATION
Your living room! This is a LIVE virtual class where students will INTERACT with Kelly and with each other. There will be no recording and no replay. Classes will be held via Zoom, and we'll walk you through how to sign on – it's easy!
This is the first writers' workshop I have attended. I am just a dabbler when it comes to writing. 
What I can share with you are the "take aways" from your workshop that will help me as an actor:
Narrowing down what to include in a character's back story: That which brought this character to this particular conflict and what shaped their attitudes toward what is happening.
The character who changes the most in the story is the protagonist/hero.  Other characters are helping the character move through the obstacles or thwarting them.
In helping a playwright to decide what to leave in and what to cut, I liked the question "how does this move the story forward?" and cultivating the willingness to let go of "precious ones."
Looking at the role my particular character may be serving from the Hero's point of view: Are they a helper? An obstacle?  Why are they in this story? How do they move the story forward?
The power of the first and last line of each act and scene.  In comedy, does it move the story forward, or just a cheap laugh?
I will definitely refer back to your hand outs as I get stuck in future story telling adventures!
Patricia Guy
For More Information:
Contact Kelly Hayes-Raitt, HayesRaitt@aol.com or text +1 310-228-7835 (text only, please).
"Thank you so much, Kelly, for presenting these timely lessons.  Every class focused on a vital aspect of writing and you know I will try to implement what I've learned as I prepare my NaNoWriMo winning draft of Murder by Bits and Bytes for publication.  This is a sequel to  A Person of Interest and I'm grateful to have had the benefit of your classes to improve my writing skills."
Ardelle Holden
"Kelly's class on character development was professional, included valuable handouts and good discussion.  I would recommend this class as an important part of developing and improving writing skills. Kelly knows her material and is an excellent teacher, writer and published author."
Karen Blue
"While Kelly clearly knows how to structure a good story and how to develop its conflict, characters, and themes, the best part of learning from or working with her is that she listens to you.
As a writer, you may have written something counter to the methods used by professional writers or editors, but Kelly will allow you to explain why you made that choice, and she then makes suggestions based on that. She may accept your reasoning, offer ways to meld your concept with traditional practices, or explain why your choice does not work. But she listens to you and tries to reach a common ground and find satisfaction for all. "
Tom Nussbaum
"I thought the amount and quality of the content was very good.  It was interesting, fun and professional – a hard combination to achieve.
Thanks, Kelly for these great classes.  I particularly benefited from the emphasis on and clear explanation of story structure giving me an immediately useful tool to go back and review the first few chapters of my book and make edits that help the story pop.  Looking forward to working with you more."
Bette Brazel
"The writing exercises were a really important part of the course as it took us out of our comfort zone and made us become involved actively."
Libby Colterjohn